When a Word's Look Counted as Much as Its MeaningNEW YORK TIMES

January 10, 2010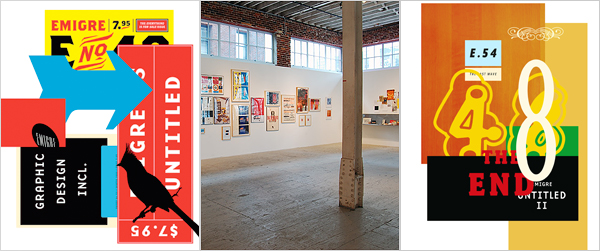 Typography is ubiquitous. A world without letters, numerals and symbols designed by skillful font makers would consist of boring billboards, pages and street signs. Yet unlike other forms of applied design, typography remains an obscure and little-understood field. When buildings are constructed, they make news. A new font barely registers in the public consciousness.
In the 1980s and '90s, however, the Bay Area was at the forefront of a movement to change this reality. The work of the graphic design company Emigre, based in Berkeley, is the focus of an exhibition of artwork and artifacts at Gallery 16 in San Francisco. An accompanying book, "Emigre No. 70: The Look Back Issue — Celebrating 25 Years in Graphic Design," further stresses the efforts of a group of graphic designers (mainly locals) to elevate design in general — and typography in particular — to an art form.
But over the years, frictions between the forces of art and commerce have hindered Emigre's cause. In today's environment, where fonts can be created and replicated by anyone with a personal computer (United States copyright law does not extend protection to typeface design), the idea that a font can be an objet d'art in its own right seems like a utopian reverie.
"Emigre was born out of a 'digital dream,' " the graphic designer Erik Adigard, based in Sausalito, wrote in an e-mail message. "But it was short-lived. Emigre is history, even if still somewhat of a cult."
Yet the marriage between a font's beauty of form and the context in which it is employed is what makes the written word jump off the page. In striving to demonstrate this truth, Emigre deserves our attention.

Founded in 1984 by the husband-and-wife team of Rudy VanderLans and Zuzana Licko, Emigre was influential on the graphic design scene in the '80s and '90s. This was partly because of the company's magazine, also called Emigre. First a quarterly and later a seminannual, it featured innovative typefaces and posters; eye-catching photography; offbeat profiles of writers and artists; and wide-ranging critical essays on subjects like the Bauhaus movement and the legibility of fonts. Although the magazine no longer exists, Emigre still operates as a font foundry; its library houses more than 300 typefaces.

From 1984 to 2005, Emigre magazine achieved cult status. With their unconventional and striking use of fonts, publications like Wired and McSweeney's, both based in San Francisco, owe it a debt. In 2006 the Museum of Modern Art in New York acquired the entire Emigre magazine canon for its permanent design collection, and put the magazines on display for a year.

"For me, like many others galvanized by graphic design during Emigre's heyday, the magazine was the most consistently interesting design publication produced anywhere by anyone," the design journalist Rick Poynor wrote in 2005.

Emigre chronicled a revolution in typography that went hand in hand with the birth of the personal computer, which brought new methods for creating type. (It's perhaps no accident that Emigre and the Macintosh computer made their debuts in the same year.) The transformation also ran in tandem with the rise of postmodern theories then popular in art schools concerning the aesthetics of utilitarian design.

Such ideas helped to free font design from the constraints of functionality. Possibly for the first time since the elaborate but often illegible opening capital letters of medieval illuminated manuscripts, font designers didn't have to worry about readability and reproducibility.

Going beyond the no-nonsense look of archetypal typeface families like Times and Helvetica, designers in Emigre's orbit, like John Hersey, Joachim Müller-Lancé and Ms. Licko, saw font design as a form of creative expression. With its thick-contoured, cartoonish forms, Mr. Hersey's Blockhead typeface won't be used for street signs anytime soon, but the fonts are eye-catching. The same could be said of Ms. Licko's aggressive and angular Oblong typeface.

For all the theoretical debate and creative output inspired by Emigre, the font-as-art movement seems to be over. The commercial interests in the fast-paced digital age have reduced typeface design to cookie-cutter templates and formulas. Unbridled innovation has largely been supplanted by nostalgic exhibitions and commemorative books.

Emigre magazine's demise may be symptomatic of the fact that it was primarily a showcase for the company's fonts. Its journalistic endeavors often supported the founders' business goals, as is evidenced by its numerous articles denouncing designer-unfriendly typeface copyright laws. But Griff Williams, owner and director of Gallery 16, wrote in an e-mail message: "For me, the lesson learned from Emigre is that business and art can coexist. The typeface business was a guise to deliver content in profoundly interesting ways. Not the other way around."

Mr. VanderLans was grappling with the tension between art and commerce while publishing his magazine. "The entrepreneurial element, which is crucial to the existence of any subculture, avant-garde or underground work, is largely overlooked when assessing the work, because to most people, whenever the commercial aspects become prominent, it somehow taints the work and renders it less pure or authentic," he wrote in Emigre in 1995. "Yet it's difficult to imagine how any movement can operate without a concentrated effort to make money."


Labels: Criticism