Frock around the clock: Drag cabaret show fits 24 decades of music into 24 hoursBBC Arts

October 6, 2016
Performance artist Taylor Mac will push himself to the limit this weekend in a New York show that lasts a staggering 24 hours. A 24-Decade History of Popular Music is a 246-song marathon, with a host of elaborate costumes, that reflects American history through music. The show spans 1776 to the present at the rate of 10 years per hour. CHLOE VELTMAN talks to the singer as he prepares for the epic challenge.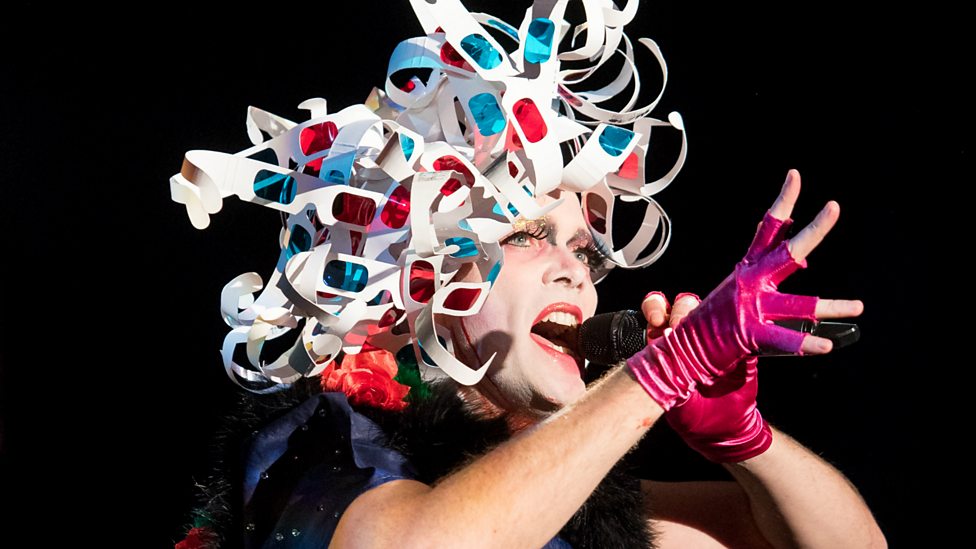 Taylor Mac performs at New York Live Arts, January 2015. Photo: Ian Douglas
Running a marathon is challenging enough. Now think about what it might take to do it in six-inch platform heels and glitter makeup, singing non-stop as you go, with a sleep-deprived audience and 24-piece band in tow.
That's essentially the task facing Taylor Mac. This weekend, the acclaimed New York-based performance artist is undertaking the first ever staging of
A 24-Decade History of Popular Music
, a deeply political, audience participation-infused, drag cabaret act that goes on for 24 hours straight.
I'm going to be falling apart and the audience is going to be falling apart, but as a result we're going to be able to build a connection

Taylor Mac
In his show, Mac uses the musical hits of each decade from the founding of the US republic in 1776 to the present day as a way to get at larger issues.
Thus The Rights of Women, a song from the 1780s based on the melody for God Save the Queen, launches an investigation into gender equality, and, from the early years of the last century, Irving Berlin's All Alone speaks to the squalor of tenement living as a new immigrant.
The show covers a decade every hour, and there's a new look and feel for each one. There are 24 costume changes in total, and each outfit is a madcap work of art in itself. The designer, Matthew Flower, who goes by the bizarre stage name Machine Dazzle, takes his inspiration from the various stages of American history in which the songs appear.
For example, in the decade devoted to a discussion about temperance (1796-1806), Mac appears in a fantastical wig made of wine bottle corks and sheaths of barley. In the 1850s section, there's a getup adorned with crisps. "Machine discovered that potato chips were invented then, so potato chips are on the outfit," Mac says.
The epic performance runs from noon on Saturday 8 October through to the same time on the following day at St Ann's Warehouse in Brooklyn.
If the workshop of the first six hours (covering the period 1776-1836) I caught in San Francisco back in January are anything to go by, the upcoming 24-hour version promises to teach audiences at least as much about American pop music history as it will about the importance of building togetherness at a time when a spirit of divisiveness seem to be governing US politics and much of daily life.
"I'm not a historian and it's not really about history; it's my subjective 24-decade history of popular music," says Mac of his song selections, which chart a course from Revolution-era chestnuts like Yankee Doodle to Patti Smith's Birdland and beyond.
"I'm going to be falling apart and the audience is going to be falling apart, but as a result we're going to be able to create bonds and build a connection. That's the real thrust of the show."
Mac is not alone among theater-makers obsessed with testing the limits of an audience's patience. The New York-based theater company Elevator Repair Service's eight-hour-long take on F Scott Fitzgerald's
Gatz
and Marina Abramovic's similarly lengthy solo performance art piece at New York's Museum of Modern Art,
The Artist is Present
, have covered similar terrain in recent years.
With 246 songs to memorise, Mac is taking his mental preparation for the marathon seriously
Mac's own 2009 play written in response to anti-gay marriage policies,
The Lily's Revenge
, ran at a comparatively modest six hours.
At 43, Mac has the stamina of someone in their 20s. But marathon performances require special skills and the artist has spent the last five years developing and training for A 24-Decade History.
In addition to the chunk he performed in San Francisco as well as a couple of other US cities at the start of the year, and the segments of the production he's presenting for three weeks at St Ann's in the run up to the one-off marathon, he also managed to get through an uninterrupted 12 hours of the show in July at Vassar College in upstate New York.
But experts say it usually takes a little longer for signs of fatigue to truly start to hamper a human's ability to function. "After 16 hours of continued wakefulness, the functionality of your brain and the health of your body start to degrade rapidly," says Matt Walker, a neuroscientist who specialises in sleep at the University of California, Berkeley. "Your attention and concentration start to fail. Also your memory will begin to fail."
With 246 songs to memorise, that's a potential hazard. So Mac is taking his mental preparation for the marathon seriously. He's devoted time in the summer to getting all the lyrics firmly locked into his brain and he's blocked out hours at St Ann's before curtain for personal preparation.
His physical regimen is similarly austere. It includes putting in extra time at the gym, resting his voice for extended periods, and having a vocal coach present at rehearsal. He's also got a team of medical professionals on hand and plans to sustain himself on stage with a menu of electrolyte water, apples and Japanese rice balls. "I've learned that changing shoes after every decade is very helpful," Mac adds. "And there are a few decades where I am not in heels."
As for spiritual preparation? Mac cut his teeth on the San Francisco and New York drag club scenes. Armed with an improv-based performance style and an agile voice that ranges in tone from velvety ballad singing to rough drinking song belt, the artist's aesthetic is as magical as it is scrappy.
Burt Bacharach or Katy Perry he is not. "Perfection is for assholes," Mac says. And that's a useful mantra to live by when you've got 240 years of pop music history to pull off.
Chloe Veltman is senior arts editor at KQED, San Francisco, California. Taylor Mac performs A 24-Decade History of Popular Music at St Ann's Warehouse, Brooklyn, NY on Saturday 8 October 2016.
Labels: Features